From My Mango Tree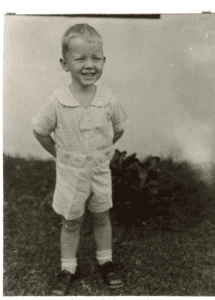 by
Luther G. Strasen
(Updated in 2006)
The Auto-biography of Luther George Strasen
<>< <>< <><
Chapter One – Roots
July, 2001 – in the first year of the twenty-first century. As I then started this reminiscing and history, the twentieth century had ended just six months prior, even though there were premature celebrations on January 1, 2000. Now, in the first months of 2006, I'm revising, correcting, and adding to my memories. They go back to the start of the second third of the past century. They are memories of India. It was there that I climbed mango trees and also ate their fruit. Sometimes it was green and I put salt on it. Other times it was ripe and pulpy fruit with a distinctive semi-sweet flavor. It's from the mango tree that is I, which my parents planted in India, that I'm looking out and reviewing my life there, and also my later life in the United States. The roots are sturdy. The sprout from the base grew, became a sapling, and developed into a tree with many branches. The fruit has, at times, been tart and salty, but most of the times sweet.
My mother, aided by my father, compiled their genealogical tree and added some historical data. The advent of the computer has made the task easier, and I've continued to accumulate more names and dates since their time, including my wife Arlene's family, using the Family Tree Maker program. While my parents' collection carries some narrative, it tells little in any detail about their own lives. Some of our children have remarked that the India experience and the unique family situations that it produced is an interesting story (at least from the piecemeal episodes that they've heard) and should be recorded. So I offer some of those events that began when I was a sprout from roots that became a sapling and grew to be a tree that has branched out and produced fruit. I'm still perched in the mango tree that is my life.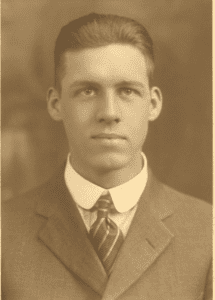 My parents are Bernhard Theodore Strasen and Henriette Ida Julia nee Ziegfeld. Dad was a Lutheran pastor's son, born November 3, 1898, in Janesville, Minnesota, a community in south central Minnesota, where his father Henry served Trinity Lutheran Church. He was the middle child of five, the only boy. As Dad wanted to be a pastor, following in the steps of his father and grandfather, his father tutored him in Latin so that he could enter Concordia High School and Junior College in St. Paul, Minnesota, in his second year of high school. In those days ministerial training followed a rigid curriculum that was inherited from Germany and lasted six years. It was still followed during my schooling, beginning in high school, introducing the student to Latin as a freshman, German as a sophomore, and Greek as a junior. It concluded with two years of junior college. Dad, here pictured in his graduation year, finished his training with three more years at Concordia Seminary in St. Louis, Missouri, taking theological and practical courses, as well as learning Hebrew. He completed the curriculum and graduated in 1921. The Board of Missions of the Lutheran Church – Missouri Synod (from here on referred to as the Missouri Synod) was expanding its staff in India and Dad accepted the assignment to go there, commissioned to be a missionary.
I called my dad "Dad", or, when younger, "Daddy," but not "Father." But Mother was both "Mother" and "Mom." She was born at home in Columbus, Ohio, on January 11, 1894, delivered by a midwife by the name of Betzinger. My aunt Emelie (whose name the family pronounced Amelia, not Emily), Mom's youngest sister, at age 87 typed some fascinating sketches of the family's early days and put them in a booklet entitled Growing Up On Mohawk Street, of which I have the original copy. Their house, still at 703 Mohawk Street in German Village, is constructed of red brick, and at that time did not have an indoor toilet. For some years, it sheltered the parents and their nine living children (their first child, a girl, had died in her first months). German Village today is a preserved heritage area in Columbus, and I've seen the house on a number of occasions, once taking Mom back a few years before she died so she could see it again. The red bricks of the street and sidewalk are, I'm sure, the same ones on which Mom played. When she was 23, in 1917, the family moved to a larger house on Forsythe Avenue that rented for $36 a month, instead of the $15 at Mohawk. With most of the children grown and working and still living together the family could afford it. After the Forsythe house had a major fire in it in 1921, they moved to 1471 Oak Street, from where Mom went to India. A final residence in Columbus, with some of the siblings still with the parents, was a lovely home, as Emelie describes it, at 91 East Northwood Avenue.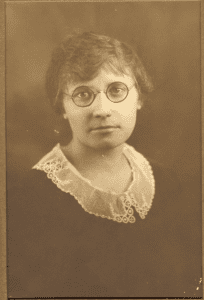 The surviving children consisted of four boys, then four girls, Mom being the eldest of them, and finally one more boy. The family belonged to Zion Lutheran Church, which was in walking distance. Mom went to elementary school around the corner from the Mohawk Street house, but also spent a few years at a school Zion started, which soon closed. During high school, she worked for F&R Lazarus Company as a cashier or clerk. After high school she attended a two-year course at the Columbus Normal School that trained her for teaching elementary age children. After five years of teaching she didn't care for it any more and took a business course. She worked as a bill-clerk in a railroad office for a short time, only to return to teaching for another half year. During all this time she lived at home. Aunt Emelie states that Henriette, pictured here, was more adventurous than her younger sisters; for example liking to play basketball, even though it wasn't considered a proper activity for girls. Also, when Henriette worked for the railroad she was allowed a free pass for a train trip. Knowing she was going to leave the job, she hurriedly took a trip alone to St. Louis, stayed a few hours and returned home – just for the adventure. Aunt Emelie writes, "Henriette did what she wanted to do."
Still, Henriette, then 27 years old, probably surprised everyone when she contacted the Board of Missions of the Missouri Synod for overseas work and was accepted. She was assigned to India in 1921 as an Educational Worker. She first met Bernhard in New York at a get-acquainted party of newly graduated seminarians and other Lutherans who were scheduled to board a ship the next day to India. Dad's nickname was "Ben." He was a tall man for his day, about six feet two, slim, and handsome. He had a fine intellect, engaged easily in conversation, liked to be with people, enjoyed stimulating argumentation, and was quite inventive. I question whether he had ever courted a girl before he met Mom. The schools he attended in St. Paul, Minnesota, and St. Louis, Missouri, were all male.
Even during the seminary years the men were discouraged from having anything to do with women. Herman Zagel, a younger contemporary of Dad's, whom I met during my pastorate at Greenwood, Indiana, recounted that during his last year at the seminary his request to the dean of students to travel to a nearby town to visit the family of a young lady he had met was refused and the opportunity for a relationship with her was lost. But it was during the last week of school that the same professor said to him, "Zagel, you'd better find yourself a wife to take with you to your first parish." Eventually, Zagel married a lovely lady, who I got to know, who was very lovely both in body and soul.
Dad was also looking for a wife. The missionary group socialized on the ship to India and there are pictures of them visiting the sights at Port Said, Egypt, and other places. There were two or three ladies among them and one of them was Gertrude Strieter, who was traveling to India to become the bride of Paul Heckel. Sadly, he died a few years after their marriage. She continued on in India and was my teacher in the first years of elementary school. She and Mom became life-long friends. Mom was about the only other eligible Caucasian lady, but she hadn't volunteered to go to India in order to find a husband. Actually, a single white person had hardly any choices. Some did marry native Indians, but those relationships, as well as their Anglo-Indian children, were distasteful to both the ruling British and to the Indian upper-class.
Dad and Mom started their separate missionary assignments in Nagercoil, a city about ten miles northwest of the southern tip of India, where the ocean was named Cape Comorin, now called Kanya Kumari. Nagercoil translated is "snake temple," and in the center of the city there was (and, I'm sure, still is) a snake temple, distinguished by wide, alternating red and white vertical stripes on its outside walls, the coloring of many Hindu temples. Cobra snakes were kept and worshipped inside. Our Synod had already started overseas missionary endeavors in India in 1895 near Ambur, west of Madras. That year, two missionaries of another Lutheran denomination already in India, Frederick Mohn and Theodore Naether, for confessional reasons transferred their membership to the Missouri Synod and continued their efforts under its auspices. By 1921 missionary activity was in three districts; the Nagercoil District, the Trivandrum District, about 40 miles due north of Nagercoil, and the Ambur District, about 400 miles to the northeast. In addition there was mission work done in Valliyoor and Vadakangulam, areas east of Nagercoil, but each considered to be a part of the Nagercoil District. About fifty American clergy and their families were involved at the peak of missionary activity. The Board of Missions in St. Louis, Missouri, controlled the enterprise under the direction of Dr. Frederick Brand, the Mission Director. (In later years I was a classmate and friend of his grandson, also Frederick, at Concordia, Fort Wayne.) The Board of Missions had purchased land in each district and in walled compounds erected bungalows to house the missionary families. Two of the three mission compounds in Nagercoil also contained boarding schools for Indian middle and high school students, one for boys and the other for girls. In the third was Concordia Seminary, where Indian men of all three districts were trained to be
pastors. Mom started her work at Nagercoil's girl school (one pamphlet lists her as its manager) and Dad spent his first years studying with a tutor to learn the Tamil language. Bernhard was attracted to Henriette, but she not as much to him, maybe because she was four years older than he and, more probably, getting married and having a family was not her quest when she went to India. One story, never really admitted by either of them, is that she finally accepted his marriage proposal while they were boating together on the lake at Kodaikanal, a mountain retreat for the missionaries, where there also was a school for their children. He threatened to dump her into the water unless she accepted. She didn't know how to swim. While Mom's brothers, except Florenz, married, her sisters Alma and Hilda did not. Emelie did marry Henry Stemmler, who she met in Fort Wayne while visiting her childhood friend, Selma Bohn, who had married Henry's brother.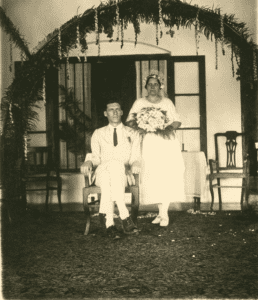 The marriage picture, taken on the day of the wedding, June 27, 1923, in Nagercoil, portrays Dad seated, with Mom standing by his chair, in a white dress enhanced by a thrown-back veil. She was about 5 feet, 3 inches tall, a plain-faced woman. She was never one to do much with her thin hair, a family genetic trait. She carried many extra pounds during her pregnancies, though in her later years was quite thin. She, like Dad, was very intelligent. Her sister Emelie states that as a child and teenager she read incessantly. She stimulated that pleasure in her children. She also didn't allow us to use bad grammar, correcting us when we did. We read children books that Dad and Mom had acquired and the daily newspaper, and they also read to us. The Madras Mail, a newspaper that we received daily in Nagercoil, had a single "comic strip," which featured a sophisticated pig, Curly Wee, and his animal friends of other species, dressed and comporting as humans. A day's offering had two cells, each containing a drawn picture under which were eight lines of verse that advanced Curly Wee and his friends' adventures. We avidly waited for it every day. Sometimes Dad or Mom would read it to all of us gathered around; at other times we read it ourselves. But, either way, the feature enthralled us as we conjectured what would happen the next day. Another fond memory from my youth was the time when I was ill in bed and Mom read Rudyard Kipling's "The White Seal" to me. I was thrilled as she introduced me to Kotick, fighting to be the new dominant bull of the herd, savaging his rivals up and down the beach, his white fur coated with blood, roaring with pride.
Mom and Dad were essentially gentle people. They didn't countenance wrongdoing by us children. So, on occasion, they both spanked; but not very often and not to excess. Dad would give in to Mom at times to keep the peace, but he also had a stubborn streak about him. It was seldom that I saw them argue. They normally conversed openly with each other and with us children, although they spoke German to each other when they didn't want us to know something. I always felt loved by them and also saw their love and support for each other. A family story is that Dad had a bit of doggerel that he would say to Mom, using her nickname, "Heinie," ( rhymes with "tiny) for Henriette. A short form for hinder – one's rear end – is "hinny" (also rhymes with tiny) and, so the story goes, Dad would say to Mom:
"Heinie, Heinie, wilt thou be mine-e – And stick to my hinny like glue?"
After the marriage, Mom and Dad were assigned to live in Valliyoor, the arid area east of Nagercoil. Their first form of transportation was a motorcycle with a sidecar. Pictures show both of them with white clothing, topees (pith sun helmets) on their heads, he astride the bike and she nestled in the sidecar. Dad became an excellent photographer and used colored slides, panoramic film, and regular size film for his pictures. When he and another missionary on their motorcycles met each other at a bend of a dusty path and had a small collision, he had the incident re-posed and photographed because he saw the humor of the only motorized vehicles for miles around meeting in that fashion.
Dad and Mom spent four terms of service in India. After each term, each about seven and one half years, the missionaries were given a year and a half-long furlough to return to their homeland by ship and visit with relatives in a more favorable climate. During their second and third terms they lived in Nagercoil. I was born during the second term and also was with them during their third. For their fourth term, starting in January 1947, they returned to India without any of us children, as we had remained in the States for schooling or work. They lived again in Valliyoor until 1951.
During the first term, four children were born. Pauline (Polly) Martha arrived on May 15, 1924, in Kodaikanal. Then Ruth Lydia was born October 10, 1925, in Nagercoil, Elisabeth (Betty) Hannah on February 20, 1927, in Kodaikanal, and Theodore (Ted) Bernhard on May 29, 1928, in Nagercoil. In 1929-30, Dad took his first furlough and, returning to the United States for a year, the family lived most of the time in the area around New Ulm, Minnesota. On the way to Minnesota, as Aunt Emelie reports, they visited in Columbus, all six comfortably housed in the third floor apartment of the larger house on Northwood Ave. On their return to India, David (Dave) Henry was born on December 5, 1930, and I was born on September 22, 1933, both of us in Nagercoil. Mom had a miscarriage before she had me, and that's always given me cause to reflect on whether I would be here otherwise. Betty told me that in later years Mom confided to her she didn't want to have as many children as she did, and certainly not as quickly as they were conceived. She also told her that she was displeased that after the miscarriage she was pregnant again. However, Mom was not one to express her feelings at such times or act on them and so I always experienced her love. Eventually, the child she was initially unhappy about was the one who took care of his parents in their last years. Betty also told me that when I was born she ran excitedly to the other missionary family and to all the servants that lived in our Nagercoil compound and told them that I had arrived. She was bewildered that they somehow already knew that I was expected and that I had been born. Pregnancies in those days were not vaunted as they are today and smaller children often were clueless. Mom went to the Salvation Army Hospital in Nagercoil for my delivery, as she had for the others born in Nagercoil. As was the practice, she stayed there for ten days, far different from today's quick dismissal from hospitals after a delivery.
What fascinates me, and I never asked Dad to clarify – and there are many more things I would ask him today if he were alive – is that I was baptized on September 25, just three days after my birth the previous Friday. There was no emergency. It was a Monday, the day the missionaries, who had ministered in the native villages on the day before, regularly gathered to worship at the Seminary library building. I know that Dad and Mom considered Baptism to be of high spiritual importance and wanted us children to become a part of God's family as soon as possible. So, I conjecture, the very next time the people of God gathered, Dad, believing the blessings of Baptism, gathered me from the hospital, baptized me, and then took me back to the hospital. Betty remembers that Mom remained at the hospital on that day, most likely because she was still considered too weak to attend. It was on that day that God put His name on me, forgave me my sins and brought me into His family, a member of the holy, Christian Church.
We children were bestowed names that gave homage to relatives, then living or from the past. Pauline Martha was given both of her grandmothers' first names. Ruth's middle name, Lydia, is my father's sister's first name. Lydia's middle name, Hanna, was given also as a middle name to Elisabeth, but with a final "h", and Elizabeth is Mom's paternal grandmother's name, but Dad and Mom spelt it with an "s." Theodore Bernhard was blessed with Dad's names reversed; Theodore also being my father's maternal grandfather's name. (Interestingly, Mom's brother Walter's middle names are also Bernhard Theodore.) David Henry's middle name is his grandfather Strasen's first name, and my middle name, George, is the first name of Dad's sister Agnes's husband, George Dysterheft, both of whom are my baptismal sponsors.
The Dysterhefts, lived in St. Paul, Minnesota, so missionary Waldemar Gnuse and his wife Bertha were proxy sponsors for them at my baptism. The Gnuses retired in St. Louis and then moved to Fort Wayne about 1980. Bertha, visiting a relative in the old Lutheran Hospital, spotted me making pastoral rounds and exclaimed, "Luther, Luther, I held you for your baptism!" During the next years, I heard that quite often from her. She was very vital, a contrast to her husband who had slowed down mentally. In her last years, however, she suffered a stroke and for weeks lay in a semi-coma at Lutheran Hospital. One afternoon I visited her, held her hand, and told her that I was Luther. Suddenly she recognized me and began to be coherent. I went to the nurses' station and told them what was happening. It was enough of a remembrance "jolt" so that she regained her faculties for the next few years. I later officiated at both Waldemar and Bertha's funerals.
But now back to India. My first memory is a rather bizarre one about a dog. Stray dogs would get into the compound and, Betty has told me, Dad would set out poisoned meat for them to eradicate them, because he was concerned that they would bite one of us. It must have been from when I was about three that I remember that a rabid dog entered our mission compound in Nagercoil and someone shot and killed it. A hundred yards or so away from me I saw the fallen animal and had an eerie feeling.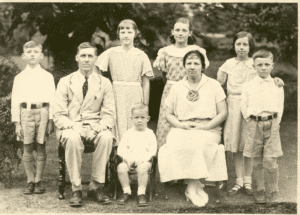 Another memory is of our large rectangular bungalow with a broad verandah stretched in front of its length and with rooms with high ceilings. A concern was that "mardu partees" – tree dogs – would get into the attic and urinate and smell up the house. In the front of the house a large mango tree had a slide Dad built for us children connected to one of its branches. Actually, most of my memories at that time are reinforced from pictures, such as the one on the cover or this one. Seated are (l-r) Dad, me, and Mom. Standing are Ted, Ruth, Polly, Betty, and Dave.
But soon there was more to remember. The second furlough, in 1938-39, began with the family journeying from India on the S.S Castalia, through the Suez Canal to the Mediterranean Sea, on to Marseilles, France and finally to Liverpool, England. After a few days in the English lake country, we took a train to Glasgow, Scotland, and while there attended the Empire Exposition, an international fair where we children enjoyed the carnival rides. The crossing of the Atlantic Ocean was on the S.S. Camaronia. While I do remember some of these details, most of them come from my older siblings' recital of them in the following years. After our arrival in New York, Dad purchased a car and, due to his inexperience in city traffic, had a minor accident in the area of the Holland Tunnel. We eventually arrived in Columbus, Ohio, where the now larger family again visited with Mom's sisters and brothers. Betty says they bought new dresses for the girls and a Columbus newspaper took a picture of the family and used it with an accompanying article. Mom's mother was already deceased and her father was near the end of his life. While I remember meeting Mom's siblings, I don't remember seeing her father, though I still have a birthday card from him. Leaving Columbus, our destination was Milwaukee, Wisconsin, and Ruth has told me that during that trip some owners of restaurants, finding out that Dad was a missionary, would not have him pay for the meals. Betty also has related that some of us children, but not I, had whooping cough. We didn't pick up those diseases in India, but some of us quickly contracted them as soon as we arrived in the States. I had chicken pox while in Milwaukee.
Our address in Milwaukee was 2647 N. 18th Street. Today it's a section of the city that is predominately a black community. I especially remember an accident I had or, more correctly, precipitated. On June 15, 1939, I teased a playmate and, running from him into the back alley, collided with a small truck that arrived there as I did. I still have a propensity, though it isn't as apparent today, to chew on my tongue when stressed. On that day, my chin struck the truck and my teeth deeply bit into my tongue. The tongue was stitched together at a hospital and a crescent scar was visible for years. I'm thankful that it could be repaired because, if it had been in an earlier century of medicine, I might have lost my ability to speak distinctly and would not have become a pastor.
In Milwaukee the family attended Immanuel Lutheran Church and we children its parochial school. I was enrolled in kindergarten. My teacher was Miss Edna Gade. Twenty-three years later, in January of 1962, I participated in a Spiritual Life Mission in the greater Milwaukee area during which guest pastors were assigned to congregations that were engaged in self-studies to gain direction for their futures. My congregation was St. John's of Port Washington, Wisconsin. I was both surprised and delighted to find Miss Gade was a primary class teacher in its parochial school. I visited in her classroom and spoke to her students about her place in my life.
During the furlough we also visited Dad's relatives on short occasions. I do remember my dad's parents. Heinrich (Henry) Christian Gottlieb Strasen, my paternal grandfather, was born February 7, 1869, in Watertown, Wisconsin. He started his ministerial training at Concordia High School in Milwaukee, then attended Watertown College and finally Concordia Seminary in St. Louis, from where he graduated in 1890. His first parish, where he was the first resident pastor, was Trinity Lutheran Church in Janesville, Minnesota. He arrived there unmarried in 1890 and boarded with a parishioner. In 1892 he married my grandmother, Martha Johanna Louise Wichmann, who was born at Farmer's Retreat, Indiana, on November 14, 1871. She had moved with her family from Farmer's Retreat to Freistadt, Wisconsin, where her father, also a Lutheran pastor, had accepted a call. Freistadt is about 35 miles from Watertown, Wisconsin, where Karl Strasen, Henry's father, was the pastor. It's said that the Wisconsin pastor-fathers, seeing Henry's need for a spouse, arranged the marriage, even though Martha wanted to marry another man. In the year that they were married, a new parsonage was built for the couple.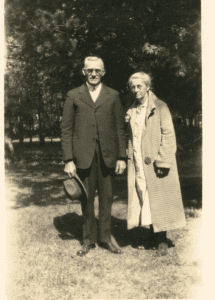 All five of their children were born in Janesville. In 1905 Henry accepted the call of Immanuel Lutheran Church, a country congregation a few miles from Courtland, Minnesota, only 30 miles northeast of Janesville. After a pastorate of 33 years at Immanuel, he retired in 1938. They lived their last years in Waseca, Minnesota, in a house next door to their daughter Lydia and her husband, Martin Koehler. This picture is of them in their later years. Henry was a man of slight build, had a mustache, and carried himself with the dignity that befitted the "Herr Pastor" of that time. My brother Ted bears much facial resemblance to him. Martha was a slim woman with a severe face, her hair knotted in the back. Henry and Martha, according to family lore, had a difficult marriage and she was not a happy person. Martha died on September 6, 1943 and Henry lived until January 22, 1955. They are buried in Woodville Cemetery, Waseca, Minnesota. The western entrance to the cemetery has a short road to the north, off of which are two roads to the east. Taking the first road to the east brings one to a jog and there, straight ahead, the Strasen headstone can be seen a few rows in.
Henry Strasen's father was Karl Johann August Strasen, who was born on May 30, 1827. His father was Joachim Karl Jacob Strasen, a teacher who lived in Jurgenshagen bei Buetzow, Mecklenburg-Schwerin, Germany. He was married to Sophia Catherine nee Dopp, who was born in 1801 and died October 9, 1834. Her parents were Johnann Dopp and Lise nee Borgward of Gross Belitz, Mecklenburg-Schwerin, Germany. J. Karl and Sophia Strasen's son, Karl Johann, was trained as a teacher in Germany and then came to the United States in 1846 under the auspices of Pastor Johannes Loehe, who recruited men for ministry in the States and had already given Karl some theological training. Carl (he anglicized his name after his arrival in the States) attended a new seminary in Fort Wayne, Indiana, and, after a year and a half, was in its first graduating class in 1847. Some years later that seminary was moved to Springfield, Illinois, and then, in 1975, back to Fort Wayne. After his graduation, Carl traveled to St. Louis, where C.F.W. Walther, the first president of the Lutheran Church-Missouri Synod (then known, in German, as the Evangelical Lutheran Synod of Missouri, Ohio, and Other States) recommended him as a Candidate of Theology.
Carl Strasen and Rosine Auguste Mueller were introduced to each other by President Walther. She was a part of what is known in the Missouri Synod as the "Saxon Immigration." In 1839, Lutherans left Saxony, Germany, because of their religious convictions and the harassment they suffered there on account of them. Under the leadership of Pastor Martin Stephan, three shiploads of passengers started from Germany, but one ship was lost at sea. In the Missouri-Synod's mind-set, the Saxon immigrants are considered on a par with the New England Pilgrim Fathers. Among the arriving immigrants on the ship Republic was Johann C. Mueller, a tile and brick maker born in Saxony in 1783, and his wife Marie C. nee Mueller, born in Germany in 1791, and their six children, one of them young Rosine. One son had died at sea. They disembarked in New Orleans, and then traveled by the steamboat Knickerbocker to St. Louis. Some of the immigrants settled there, and others in Perry County, Missouri. Rosine, who was born on April 10, 1831 in Planena bei Halle, Prussia, accompanied her family to Altenberg in Perry County, but after her parents died worked in St. Louis as a maid.
Carl Strasen, upon his graduation from the Fort Wayne Seminary and not married, in December of 1847 became pastor of rural Trinity Lutheran Church, Horse Prairie, Illinois, three miles east of Red Bud, Illinois. Pastor Martin Stephan, who had been deposed as the leader of the Saxon immigrants in Perry County and exiled to Illinois, had served the previous year, until his death.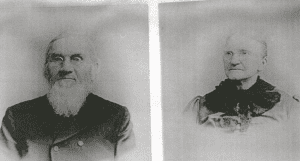 In 1849, President Walther, having introduced Carl and Rosine to each other, officiated at their wedding. This picture also is of their later years. She had twelve births, six of which survived early childhood. Heinrich Christian Gottlieb was their tenth child. Carl's next parish, in 1850, was Holy Cross Lutheran Church in Collinsville, Illinois. Then, in 1859, he became the pastor of St. John's Lutheran Church, Watertown, Wisconsin, and served there for 41 years. From 1875 to 1882 he was also the first president of the Northwestern District of what is now the Missouri Synod. It comprised Minnesota and Wisconsin and, when it was divided, he became the first president of the Wisconsin District, from 1882 until 1885. He died on February 26, 1909, Rosine having preceded him on April 22, 1896. They are buried in the Lutheran Cemetery at a gravesite immediately to the right of the cemetery's middle entrance, between a service building and the county road. Her headstone has only the name Auguste on it, so she might have gone by that name, instead of Rosine.
The parents of my Dad's mother, Martha Strasen, were both Wichmanns. August Julius Theodore Wichmann (known by his third name) and Wilhemena (known as Emelie) Wichmann were cousins. Great grandfather Theodore was born in Gromsee, Mark Brandenburg, Germany, on August 15, 1826, the son of Carl D. Wichmann and Wilhelmine nee Roeme. He studied to be a pastor at the Mission Institute in Berlin with the hope of being sent to Africa as a missionary. Instead, answering an appeal by Pastor F. K. Wyneken, one of the founders of the Missouri Synod and its second president, he came to America. He was already engaged to marry Emelie, but preceded her in 1848 to Cincinnati, Ohio, to where he had been commissioned to be a missionary. He accepted the call of a Zion Church to be their pastor, but quickly realized that the majority of the members wanted to adhere to Reformed doctrines as expressed in the Heidelberg Catechism. No longer permitted to be thoroughly Lutheran, he tendered his resignation. Nineteen other members also withdrew and, on November 21, 1849, they organized Trinity Lutheran Church, with Theodore continuing as their pastor. A simple brick building was constructed, without tower, steeple, or bell, and was dedicated in June of 1850. The ground floor had a schoolroom, as well as a parsonage of three rooms. Worship was held on the second floor. Trinity was the mother church of the Missouri Synod in Cincinnati. In 1870 a new church was constructed on the site of the first building. In 1927, in conjunction with a merger with Emmaus Lutheran Church, the two congregations became Concordia Lutheran Church. Since then, the congregation's buildings are in another area of Cincinnati, but it continues to date itself back to1849.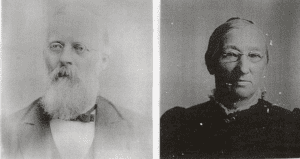 Emelie Wichmann was born on October 26, 1827 in Lychen, Mark Brandenburg, Prussia, the daughter of Johann Wichmann, a master tailor, and Anne Dorthea nee Rueckert. After her arrival in Cincinnati, she and Theodore, pictured here in their later years, were married in September of 1849, just a few months before he resigned his pastorate at Zion. Thirteen children were born to the marriage, five sons and eight daughters. In 1858, Theodore accepted a call to serve St. John's Lutheran Church, in a hilly area west of Dillsboro in southeast Indiana called Opptown, where the congregation worshipped in a log cabin church. Previous pastors at Opptown had at first stated that they were Lutheran, but were found to be promoting Reformed theology. The congregation sought Pastor Wichmann's advice and eventually extended him a call, which he accepted, to be their pastor. During the Civil War, his parish paid $1,023 to have him exempted from service in the northern army and for someone else to take his place. In 1866 the congregation voted to build its sanctuary at a new site, where it continues to this day. The settlement is now named Farmers Retreat because farmers during the Civil War hid their cattle in the hills and ravines of that area to preserve them from marauding Confederate soldiers. After 23 years at Farmers Retreat, in 1881, Theodore accepted a call to Trinity Lutheran Church, Freistadt, Wisconsin; the first Lutheran congregation in Wisconsin. During his pastorate, the present sanctuary at Friestadt was built, with dedication on October 12, 1884. It's the congregation's fourth church building. It was at this time that my grandfather Henry was introduced to the Wichmann's daughter Martha and the next generation began. Theodore died on September 3, 1894, while still the congregation's pastor. He had been in ill health for about six years. One night he retired to bed late and a few minutes later suffered a stroke and died. His daughter's father-in-law, Carl Strasen, officiated at the service. Emelie died on December 17, 1908. They are buried in the Trinity Lutheran Church Cemetery. The plot with its large marker is at the southeast corner of the cemetery, north of the church.
My mother's father, Frederick Augustus Ziegfeld, was born in Amsterdam, Holland, on June 19, 1860 and came to Columbus, Ohio, with his parents when he was eight years old. His mother considered him a sickly child and didn't allow him to go to school regularly, and so he finished only about the fourth grade. His father owned and operated a bakery that was well known in its day for its baked goods. Aunt Emelie reports that Grandmother Ziegfeld, however, actually "ruled the roost." She insisted that her boys work in the bakery and it was there that young Frederick learned the art. He also enjoyed baking at home for his wife and children. At Zion Lutheran Church in Columbus he met and eventually married Pauline Emelie Horst. She was born in Peru, Indiana, on April 29, 1859, the daughter of a Lutheran pastor who had come to the Columbus area. At the same parish, his brother Julius met Pauline's sister Emma Horst and they also married. Pauline had about seven years of schooling and had taught school for a time.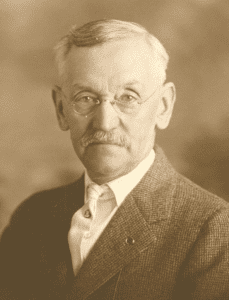 Frederick and Pauline, pictured here, were married in 1884 and he continued to work in the family bakery. However, in the late 1890s, his mother set the young family up on a farm to produce milk and cream for the bakery, but that didn't work out because Frederick knew baking, not animal husbandry. The bakery eventually couldn't financially support the extended family and finally failed. So, starting in the early 1900s, up to about 1925, Frederick worked as a maintenance man at the Henry C. Werner Co., a wholesale shoe distributor. The company went out of business and he then became a stock clerk at the Pitts Shoe Co., a retail business. As I previously wrote, Frederick and Pauline had nine living children.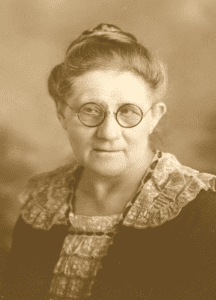 The eldest child was fifteen years older than the youngest. Aunt Emelie recounts that Frederick set up a small store in the front room of the Mohawk Street home, with Pauline as the clerk. But with all the children about her and few customers, it went badly and soon closed. Pauline died on March 20, 1929, and Frederick on October 25, 1939, as our family was returning to India after the 1938-39 furlough. While I have no memory of ever meeting him, through the ensuing years I at times visited my mother's brothers and sisters and their spouses and children in Columbus. In his last years, Frederick lived with some of his children and, finally, in households that cared for elderly. Frederick and Pauline Ziegfeld are buried in Sunset Cemetery, Columbus, Ohio.
The father of Frederick Ziegfeld was Carl Gerhard Ziegfeld, who was born at Jemgung, Grand Duchy of Oldenburg, Germany on April 16, 1822. He trained to become a baker and, after receiving his master papers in Germany, moved in 1845 to Amsterdam, Holland. Carl had three brothers, one of whom, Florenz, was secretary to the Grand Duke of Oldenberg. The name Florenz continued in the next generations. Florenz's son, Dr. Florenz Ziegfeld, was head of the Chicago College of Music and one of his sons was the American showman Florenz Ziegfeld (1869-1932), the creator of the Ziegfeld Follies and husband of the actress Billie Burke. Another son of Dr. Ziegfeld was Julius, the organist at Trinity Lutheran Church in Columbus, Ohio. It was through Julius Ziegfeld's urging and coaxing that Carl Gerhard Ziegfeld and his family left Amsterdam and settled in Columbus.
In Amsterdam, Carl had met and married Elizabeth Vrind in 1849. Elizabeth was born on February 8, 1827 in Amsterdam, the first child of Conrad Vrind and Vrotie nee Westerhoff. All of Carl and Elizabeth's eleven children were born in Amsterdam. The seventh was Frederick. The couple came to Columbus, Ohio, in 1868 with five sons. Three boys and three girls had died in Holland. The name Florenz, a masculine form of the feminine Florence, from the Latin for "flower" or "bloom," continued to flourish also in their family. After their first child, Florenz, died, the second, a girl who also early died, was named Florendina (maybe another name from the Latin root). So the next child, a son, was then again named Florenz. The name reached the next generation when their son Frederick and his wife Pauline, my mother's parents, named their third child Florenz. As I already stated, Carl operated a bakery on East Main Street in Columbus and later tried a catering business. He died on May 2, 1887 and Elizabeth on August 23, 1898. Carl and Elizabeth Ziegfeld are buried in Greenlawn Cemetery, Columbus, Ohio.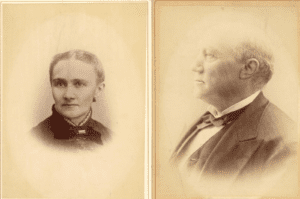 My mother's mother, Pauline Ziegfeld, was a daughter of George Henry Horst and Emma nee Barthel, pictured here. George Henry (he was known as Henry) was born on January 28, 1829, in Vogelsberg, Oberohnen, Hessen-Darmstadt, Germany, where his father was a wagon maker and also had a small farm. Henry and his brother John were schooled in Germany and it bothered Henry that his education as a young man was not Christian. The brothers left Germany to avoid the theological rationalism that was rampant in the church in Germany and came to the United States in 1850. However, another version is that they left Germany to escape being drafted into the army. They studied to be pastors at the seminary in Fort Wayne, Henry graduating in 1856. John graduated in 1859 and the last congregation he served in his years of ministry was Immanuel, Courtland, where Henry Strasen later was the pastor, and he is buried in that church's cemetery. Henry Horst, upon his graduation, was called to Roseville, Minnesota, to assist a Pastor Graebner who was ill. He was ordained there in 1856. That fall, he was called to be an assistant to Pastor Stuerken at St. James Lutheran Church, Logansport, Indiana. In November of 1856, at his church, he married Emma, a marriage that it is said was also arranged by Pastor C. F. W. Walther, as had been the marriage of Karl Strasen and Rosine nee Mueller. Emma Barthel was born on November 28, 1834, in Neuwiese, Saxony, Germany, where her father owned a spice and grocery store. Her mother's name was Emelia nee Guenther. The family came to America in 1853 and lived in Fort Wayne for a short time and then moved to St. Louis. Her mother died soon after they came to America and Emma kept house for her family until her marriage. Her father disappeared; some say he went to Cairo, Illinois, with a considerable sum of money, and others say he went to Kansas.
Henry and Emma's marriage was blessed with five sons and five daughters, the second child being Pauline Emelie, the future wife of Frederick Ziegfeld. In 1857, Henry accepted the call to serve three affiliated congregations in Peru, Leonda, and Rochester, Indiana. Then, in 1859, he moved to Grove City, Ohio, to serve a mission congregation. In 1862 he also began to serve St. James Lutheran Church in Wittenberg, on Hilliard and Rome Road (now listed at 5660 Trabue Road, in Columbus) as well as St. John Lutheran Church at 6135 Rings Road in Amlin, now Dublin, Ohio. He gave up the congregation in Grove City and was pastor of the other two for the next twenty-nine years. He retired in 1891 due to ill health and died of a kidney ailment on February 27, 1892. His wife Emma had already died on January 28, 1885, from blood poisoning. Henry and Emma Horst are buried in St. James Lutheran Church cemetery next to two sons who preceded them in death. A tall tombstone close to the church building marks the site. Another son, Theodore Carl, had been Henry's assistant and was called to succeed him as pastor of the congregation.
These, then, are the roots that produced this sprout:
Johann Dopp/Lise Borgward
J. Karl Strasen/Sophia Dopp
Carl J. A. Strasen/Rosine A. Mueller
Theo. Wichmann/Emelie Wichmann
Carl Ziegfeld/Eliz. Vrind
Henry Strasen/Martha Wichmann
Frederick Ziegfeld/Pauline Horst
Bernhard Strasen/Henriette Ziegfeld
Pauline Martha
Ruth Lydia
Elisabeth Hannah
Theodore Bernhard
David Henry
Luther George