From My Mango Tree
by
Luther G. Strasen
(Updated in 2006)
The Auto-biography of Luther George Strasen
<>< <>< <><
Chapter Six – Fruit
I'll bring these remembrances to a close by updating our children's goings and comings after they left our home, and then adding some spiritual basics that are foundational realities for me. Our children are the fruit of our marriage, but there is also the fruit that consists of the blessings that Arlene and I have experienced from our relationship with God, with each other, with our children, and also with those among whose lives we were nurtured and with those who have come into our lives as friends and acquaintances.
The children are married and have their own children. I solemnized all of their marriages, except for Cathy's, which my classmate Ted Klees performed on Marco Island, Florida. Timothy graduated from Concordia Lutheran High School (CLHS), Fort Wayne, in 1976 and spent a year as an orthopedic orderly at Lutheran Hospital. That whetted his interest in studying to be a R.N. and so he entered Lutheran Hospital's School of Nursing (LHSN) and graduated in 1980, the first son of a former LHSN graduate. His schooling was entirely paid for by a gentleman who had left a bequest that covered the costs of any male nursing student. After graduation he worked at Lutheran Hospital in the emergency room and then in the coronary care area. In September 1986, in an Episcopal Church in Huron, Ohio, he married Treva Yeager. Treva, while living in Huron, graduated in 1981 from Vermillion High School, Vermillion, Ohio, and from Bowling Green University, Bowling Green, Ohio, in 1985, with a major in Exercise Physiology. She came to Fort Wayne and in due time worked at Lutheran Hospital where she met Tim. After their marriage, they immediately moved to Naples, Forida, but a few months after the birth of Wyatt in 1987 returned to Fort Wayne. Kyle was born in 1992. They first rented in Fort Wayne, but since May 1991 have lived on Maples Road, a few miles south of us. Treva also enrolled at LHSN to earn a nursing degree and is employed by Lutheran Hospital, caring for patients who have pacemakers. Tim is a rounding nurse for Indiana/Ohio Heart, whose surgeons do bypass surgery, heart transplants, and other thoracic procedures. Both Tim and Treva's offices are on the Lutheran Hospital campus.
Sarah, after graduation from Wayne High School in 1978, got a receptionist position at radio station WMEE and eventually became the administrative assistant to the general manager. One day she remarked to him that she would like to try news casting and he gave her the go-ahead. She also became acquainted with a disk jockey at the station, Bob Jacobs, who has the air name of Fast Jimi Roberts. Bob grew up in Monroe, Louisiana, where his father was a weathercaster at a TV station. A manager at WIRE in Indianapolis heard Sarah on the air and offered her a job and she worked there in the year before her marriage to Bob in September of 1982 at Peace Lutheran Church. Days after the wedding they moved to Colorado Springs, Colorado, where he was at KIIQ in Manitou Springs and she was at KYSN. After eight months, they moved to Long Branch, New Jersey, where Bob was at WMJY, living in various apartments. From 1983 to 1985, Sarah was on a morning radio show at WOBM in Toms River, New Jersey, and then worked for an ad agency the next two years before she became a mother. In 1984, Bob was hired by WPLJ in Manhattan and they bought a house in Red Bank, New Jersey. From 1995 to 1999, Sarah again was on a morning show at WJLK in Asbury Park, New Jersey. A format change at WPLJ in early 1999 caused Bob to move to a station in Washington D.C, living there with his family still in Red Bank. He then joined MIX106.5 in Towson, Maryland, in the Baltimore area. In September 1999, the family rented an apartment in Owings Mill, Maryland, and then purchased a home that December in Bel Air, Maryland. Bob now has an afternoon radio show and Sarah newscasts for a morning show, both on MIX106.5. Their children are Andrea (1986), Jonathan (1988), and Catherine (1992).
Catherine graduated from CLHS in 1980 and enrolled in an LPN program with IVY Tech, from which she graduated in 1982. For about a year she worked at a nursing home near Largo, Florida, and then returned to Fort Wayne and continued working in various nursing homes. In December 1986, she married Michael Gastineau at his parent's home on Marco Island, Florida. He is a graduate of Northrop High School in Fort Wayne in 1978 and Hillsdale College in Michigan in 1982. He earned an MA in finance at St. Francis College, Fort Wayne, They lived in an apartment in El Paso, Texas, from 1986 to 1989, where Mike managed Snickerz Comedy Club and Cathy worked at Mountain View Place, a nursing center. They moved to Marco Island in June of 1989 and lived with Mike's parents, and then, in 1990, purchased a condo in Naples, Florida. She worked as an LPN and he had accounting jobs. They returned to Fort Wayne in 1991, living a year with us, and then in an apartment. In November 1993 they purchased a house on Amherst Drive, and then in July 1999 moved to Blue Mist Road, a few blocks from us. Cathy worked for the Rehabilitation Hospital of Fort Wayne and in 2006 transferred to Lutheran Hospital. She's finishing the course work to be an RN. Mike is now the Assistant Controller for Fort Wayne Radiology, the group to which his father, an MD, belonged. Their children are Mitchell (1987), Claire (1989), Philip (1992), and Connor (1995).
Laura is a 1982 graduate of Wayne High School. She worked at various jobs in retail, and, having an artistic bent, took some art college courses at Vincennes University and IPFW starting in1983. Some of her art work graces our home. She married Craig Stephens in July 1986 at Peace Lutheran Church. Working fulltime, he left high school for awhile and in 1986, while his company workers were on strike, earned his high school diploma from Northrop High School. He has been employed, since before their marriage, by Food Marketing, Inc. Craig and Laura first lived near Emmaus Lutheran Church on Miner Street in Fort Wayne and then built a home on Goldenrod Place on the north side of the city, where they've lived since August 1992. Laura graduated from Ravenscroft Beauty College in 1992 and presently is self-employed as a hair stylist at A Day Away Salon and Spa. Their children are August (1992), and Jared (1995).
Michael graduated from CLHS in 1984 and then enrolled at ITT Tech, a year-round school, from where he graduated with a BS in robotics in 1987. His first employment was at General Electric's Taylor Street plant, where they assemble electrical harnesses and electronic controls for aircraft engines. He has been trained in Six Sigma, a program that enhances production in plants. He married Michelle nee Maddox in May 1994 in the St. Paul Lutheran Church chapel in Fort Wayne. She grew up in a rural area near Montpelier, Indiana, and graduated from Blackford High School in 1985. She came to Fort Wayne to work and was employed by Lincoln National Bank from 1988 to 1999. In 1999 Mike began to work for Johnson Controls in Ossian and in December of 2001 became the Quality Manager for Avery Dennison's plant in Fort Wayne. He found the job not very challenging and so, in July of 2002, accepted a position at Therma-Tru in Butler, Indiana. Mike, while still single, had purchased a house on Oakdale Drive in 1989 and then, in October 2001, the family moved to its present home on Winterset Drive, a block away from the Gastineaus. Their children are Benjamin (1997), Spencer (2000), and Madelyn (2004), our fourteenth grandchild.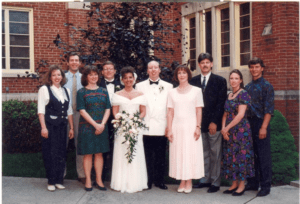 This picture of our children was taken at Michael and Michele's wedding in 1994. Left to right, they are Catherine and Michael Gastineau, Treva and Timothy Strasen, Michele and Michael Strasen, Sarah and Robert Jacobs, and Laura and Craig Stephens.
In a letter to my parents in India, in February of 1948 when I was 14 years old, I wrote, "It seems sort of queer whenever I tell somebody that I bring up the tail end of our family. It seems hard to believe that the whole family is grown up and we're all out in the world already. It really is something for you (referring to either Dad or Mom) to say, 'I have brought up a family of six in the Lord. And as far back as I can look, God has been good to me and showered blessings on us.' You know, I've thought of that a lot of times and I've said to myself I hope I can say that some day. It seems like an awful hard job to get a good wife and bring up your children in the right way."
I now can say, as I hoped for then, that God has been good to me and showered blessings on us. Arlene and I, at times, ask ourselves just what we did right in the rearing of our children. We are thankful to say that we have what we consider very well adjusted Christian children, and I underscore the Christian. To arrive at that statement, I factor in what we learned from our parents and what our children learned from us. First and foremost is the Christian understanding that we are sinners; but sinners who believe that God, through the saving work of Jesus, His life and death and resurrection, has made us His children and richly and daily forgives us our sins. We were baptized in God's triune name, Father, Son, and Holy Spirit, so that by virtue of our Baptism, as Dr. Martin Luther (after whom I was named) states so well, "the Old Adam in us should by daily contrition and repentance be drowned and die with all sins and evil desires and, again, that a new man (woman) should daily come forth and arise, to live before God in righteousness and purity forever." Every day we can start over to live as God would have us live in His love. That's the power of God's forgiveness.
Through my years as a young man, and then as a husband, father, pastor, and counselor, I've come more and more to understand what our basic human sin is: in one word – selfishness. We each are constantly tempted to love ourselves before we love God or those in our family or others in our life. That selfishness, of course, is diametrically opposed to God's will for our lives – to love Him first with all our heart and soul and mind, and, secondly, to love our neighbor as ourselves. If we did love as God calls upon us to love, there would be no sin in the world. But sin there is, and it's that selfishness in our lives, evident in all of its self-serving manifestations – disobedience, anger, vengeance, violence, immorality, lack of concern for others' property, gossip, and covetousness, – that causes terrible broken relationships and personal grief.
As Christians, Arlene and I have attempted to model for our children the Christian life that gives power over sin. Simply again – We believe in God's forgiveness, which empowers us to be forgiving people who keep our relationships alive. We're ready to say that we're sorry for what we have done wrong and we're ready to forgive and not hold grudges when we have been wronged. As I like to state it, we "get rid of the garbage" in our lives. I've seen too many people who, after they say they have forgiven others, bring yesterday's garbage – past wrongs – back into the relational houses of their own and others' lives, and it truly stinks up those relationships in a worse way. I thank God for Arlene – who has never reminded me of my past sins, even though she could. People do say, "Forgive and forget." But, actually, it's almost impossible to forget. So my definition of Christian forgiving and forgetting is that the person who can forget is not I, but the person who has wronged me. I'll strive never to remind the person I've forgiven of the wrong he or she did to me. Arlene has fulfilled that definition in how she treats me.
Arlene and I attended Christian schools throughout all our years of formal learning. At times, especially in my early years, the message of God's love was more a static statement of faith than that which I actually practiced in my life. I now realize that we Missouri Synod Lutherans have done, and still do, a fine job of teaching Ephesians 2:8-9, that by grace we are saved, and that not of ourselves; that it is the gift of God, not of works, about which we can not boast. But so often we fail to understand and put into practice the next verse, Ephesians 2:10. "We are (God's) workmanship, created in Christ Jesus to do good works, which God prepared beforehand, that we should walk in them." We glory in that we're saved, but act as if nothing more is required – when much more is. True, our good works can't save us, but our lives have been designed and created by God to do active good works of love. They're the evidence that His love is motivating, empowering, and controlling our lives. I hear sermons that elaborately tell about Jesus' death and resurrection and that His saving work assures us of a life in the eternity of heaven. But they leave me saying "So what?" No connection is made to living daily the new life into which Christ has redeemed us. Jesus, speaking of Himself as the vine and us as its fruit-bearing branches, puts it succinctly: "He who abides in me, and I in him, he it is that bears much fruit, for apart from me you can do nothing. By this is my Father glorified that you bear much fruit, and so prove to be my disciples." John 15:5, 8.
The fruit is our good works – our deeds of love. Jesus continues: "As the Father has loved me, so have I loved you; abide in my love. If you keep my commandments, you will abide in my love. This is my commandment, that you love one another as I have loved you." John 15:9, 10, 12. That's the completion of the circle. God's grace (His selfless, undeserved love) has saved us from the power of sin and its consequence of eternal death. He has made us His special people who are now empowered by His love to love Him and those in the world about us. By such love we glorify God who is love.
The Rev. Professor Dr. Paul Bretscher gave me deeper insights into the matter of God's love, and how in our sinfulness we can twist it. In the early years of my ministry I heard him deliver a paper, "The Antithesis of Love Is Justice." He spoke of God's selfless love that Jesus demonstrated. Jesus certainly didn't think of himself when he obeyed the Father's will, even to Calvary's cross. Rather, He gave His all for us. We, however, instead of selflessly loving as God loves us, ready even to give100% of ourselves, cry out to God and others that we want justice. We want things divided at least 50/50, if not even a better percentage for us. We selfishly want to be given what we think we deserve (without realizing what actually we're asking from God is the punishment we deserve). In doing so, we refuse to love one another as Jesus has loved us. We take care of ourselves first, instead of maybe even having nothing so others can have all. Dr. Bretscher opened up for me an understanding of my own faulty living, as well as a better discernment of the same false dynamics in the lives of people whom I counseled.
Another pastor from whom I learned more about God's love is the Rev. Herman C. Theiss, who allowed me to pattern my teenage confirmation book The Path of Life on his adult instruction manual Life with God. One day a sentence in his book especially gained my notice. He stated that most of what we do is based on the "damnable motivations of reward and punishment" It was a new concept and opened up another understanding for me. Reward and punishment can be selfish motivations. That is, I might do something for someone else only if I get rewarded; or to keep myself from being punished if I don't do it. Without those considerations, in my selfishness I well might do exactly nothing for others. After all, I come first! Actually, those are the motivations that make slaves obey. They don't obey out of love for their owner/master, but to have food, clothing and shelter, and not to be whipped. Love doesn't motivate them, compulsion does. And if they had no reward and punishment concerns they wouldn't obey. So, too, we often are slaves to reward and punishment motivations. When we do what appear to be "nice things," but we're motivated either by reward or punishment, what we do aren't deeds of Christian love. They are selfish acts. If I do things for Arlene just because I want supper (reward) and certainly don't want not to be fed (punishment), I'm acting as a slave acts. How different is the power of Christian love! If I do something for her because she loves me and I love her . . . Wow! That's true love! In the fifth chapter of Galatians, the apostle Paul warns about spiritual slavery. But he also exults in the freedom to live freely in God's love. He writes, "For freedom Christ has set us free; stand fast therefore, and do not submit again to a yoke of slavery. But I say, walk by the Spirit, and do not gratify the desires of the flesh (selfishness). The fruit of the Spirit is love, joy, peace, patience, kindness, goodness, faithfulness, gentleness, self-control; against such there is no law." (Galatians 5:1, 16, 22, 23) The freedom from false motivations that God gives us empowers us so we can love with no limitations. That ties into what Jesus says in John 15:11 about loving as He loves us: "These things I have spoken to you, that my joy may be in you, and that your joy may be full." We experience such great joy as we love God and others with a love from God that has no law to limit it!
And now, if you've reached this point and have read my spiritual understandings that are the fruit of God in me through Jesus my Lord, one more thought, and that is this: I don't want to be understood, even at my age, that "I have already attained, either were already perfect." But with the apostle Paul, I also say, "I press toward the mark for the prize of the high calling of God in Christ Jesus." (Philippians 3:12, 14) At times I surprise people when I say that I am a better person than I was years ago. I should be. It's God's will for our lives that we mature spiritually. Paul, writing to the Ephesians, states that God wants us to "attain to the unity of the faith and of the knowledge of the Son of God, to mature manhood, to the measure of the stature of the fullness of Christ; so that we may no longer be children. Rather, speaking the truth in love, we are to grow up in every way into him who is the head, into Christ, from whom the whole body, joined and knit together by every joint with which it is supplied, when each part is working properly, makes bodily growth and upbuilds itself in love." (Ephesians 4:13-16) I'm a part of the body that is Christ. Thanks be to God for His love that has helped me to grow in him!
So that is the essential faith and also the values that I have, and which I consider Arlene as having, though she's never put them down on paper as I just have, or articulated them to me. But I believe they are why we have such a beautiful family. We have, though not perfectly, modeled selfless living for each other in our family. We have forgiven as God has forgiven us in Christ, and so healed relationships when broken. We have worshiped and prayed together and conveyed to our children Christian knowledge, values, and conduct. We have been concerned about each other, and also our children's, well-being. We didn't, at least I don't think we did, smother our children with an imposed piety as "preacher kids." As a family we joke, we laugh, we don't get serious except for that which we ought, we acknowledge success, we commend, and we participate in family togetherness. Arlene and I are deeply proud of our children, but a pride tempered with the reality that God is the giver of all and to Him we give the praise. And so now, in 2006, I'm still enjoying from my mango tree.
<>< <>< <><