Saturday morning started with a latte from a stand close to our tent (camping in Seattle, gotta love it) and a bowl of cereal. The day was overcast with a little light rain but the weather did not get in the way of having a great time.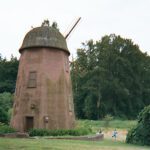 On the Windmill Stage Barbara Luna (not the one from Star Trek) was playing a blend of tango, Chacarera, Huayno and a little Afro-Cuban Groove.
Simon Shaheen & Quantra mixed traditional Arabic music into jazz for a wonderful set that dazzled all. His CD Blue Flame is now one of my favorites of 2001.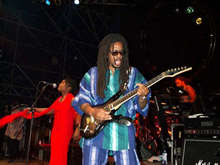 At 5:30 Steel Pulse took over the main stage with an amazing blend of Reggae, Dub Style and Funk. The high point of the show was extra funky mix of Steppin' Out . Starting out on the British punk scene with groups like Generation X Steel Pulse has a commitment to fighting injustice, educating the masses, and promoting positive messages through spiritually uplifting music.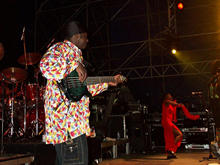 The band has always taken its causes to heart. In 1991, Steel Pulse filed a $1 million class-action lawsuit against New York City's Taxi & Limousine Commission. The group charged that cabbies refused to pick up blacks and Rastafarians throughout the streets of New York.
Steel Pulse has always used their music to speak out on politics, and politicians have taken notice. The group's message of hope, education, and activism paved the way for their 1993 invitation by the Clinton Administration to become the first reggae band to perform during inaugural festivities in Washington, D.C.
As we all sat on the grass and had dinner on Saturday night, the Neville Brothers were on stage playing their world-famous New Orleans soul. Aaron's voice was a perfect as ever. Charles on sax, Art on Keys and Cyril with percussion… it was magic. As we left WOMAD that night the Neville Bothers were playing a lively version of the theme from Sesame Street.