This magnificent evergreen shrub Ceanothus 'Dark Star,' commonly known as California Lilac was planted in 2012. I love the stunning royal blue flowers and bees seem to enjoy them as well.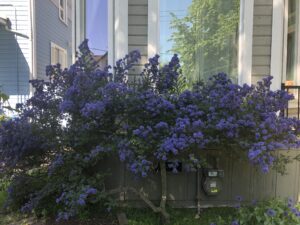 This variety offers a splash of vivid color to your garden in the late spring and early summer and the flowers have little golden flecks. The Dark Star California Lilac is distinguished by its profusion of rich royal blue flower clusters. The flowers are so abundant that they can cover the shrub entirely, producing an amazing floral show. They are also notable for their perfume, which is sweet and pleasing and draws pollinators like bees, butterflies, and hummingbirds to the blossoms.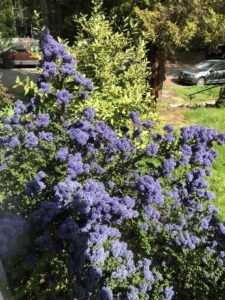 The plant has branches that gently arch and are covered in tiny, ovate-shaped, dark green leaves. The leaves feature deeply imprinted veins that contrast texturally with the leaf's smooth surface. The foliage is gorgeous all year long and creates a lovely setting for the flowers. The Dark Star California Lilac is resilience to deer, which usually avoid this shrub. However, it attracts animals like hummingbirds, butterflies, and birds who need food and shelter.
I enjoy seeing the flowers from our window and I usually do a major punning away from the windows later in the season. These can grow up to 6 ft. tall but I keep this one around 4 ft. They prefer full sun with afternoon shade and they are drought tolerant.