Halloween Smoked Meatloaf
This smoked meatloaf, wrapped in bacon and dripping with barbecue sauce, is perfect for Halloween diner.
Serve this scary meatloaf with any of these Halloween side dish ideas.
Halloween Stuffed Peppers
Witch Finger Breadsticks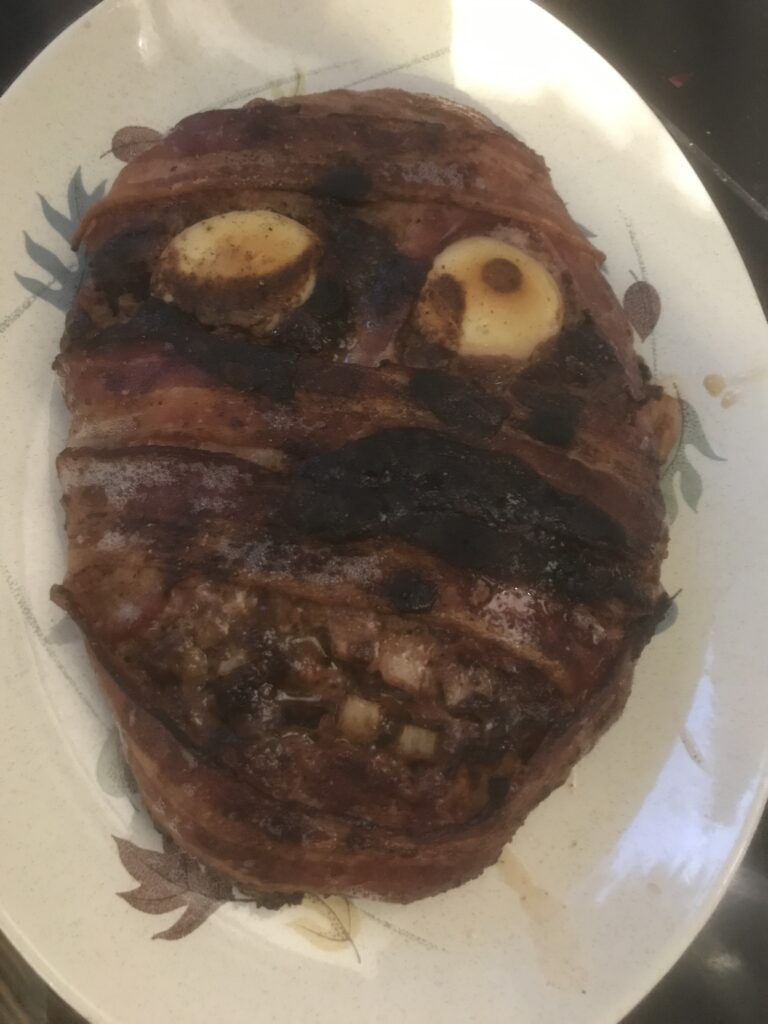 Halloween Smoked Meatloaf
Cooking time
1
hour
30
minutes
I finally posted my own version of this Halloween-themed meatloaf. I use hard boiled eggs for the eyes but you could also use onions. I wrapped the meatloaf in bacon because it seemed the most realistic and delicious.
Ingredients
2 tsp vegetable oil

½ red onion, finely diced

1/2 bell pepper, finely diced

1/2 stalk celery, finely chopped

1 oz mushrooms, finely chopped

4 cloves of garlic, minced

2 lbs lean ground beef

1/2 cup breadcrumbs

½ cup Parmesan cheese

1 fresh egg beaten

3 tbsp chopped fresh basil

½ tsp dried oregano

1 tbsp Worcestershire sauce

salt and pepper, to taste

2 hard boiled eggs without shell (for eyes)

1/4 sweet onion sliced into 1/4 inch squares (for teeth)

4 to 6 pieces of uncooked bacon

1/2 cup barbecue sauce
Directions
Preheat smoker to around 200 F
Heat oil over medium heat in a skillet. Add onions, peppers, celery, and mushrooms to the skillet and cook about 5 minutes, stilling often or until vegetables are tender.
Add garlic and cook and stir for a minute or two. Turn off heat and let the vegetables cool.
Combine ground beef, breadcrumbs, Parmesan cheese, fresh egg, basil, oregano, Worcestershire sauce, and vegetable mixture in a large bowl
Season with salt and pepper to taste
on a baking sheet, shape ground beef mixture into whatever head shape you want. Push hard boiled eggs in for eyes and sweet onion pieces for teeth.
Drape bacon around the face without covering the eyes or mouth.
Place baking sheet in smoker for 45 minutes at around 200 f
Remove meatloaf from smoker and increase temp to 325 f
Drizzle barbecue sauce on face without getting much on the eyes. carefully add a large drop to center of each eye.
Return meatloaf on baking sheet to the grill. cook until internal temp reaches 160 f and the bacon is starting to crisp, about 1 hour. Add a little more barbecue sauce and serve.