This year WOMAD was a little leaner than in the past but just as festive as ever. Turning this Redmond park into a colorful global village with sights and sounds of musicians, artists and dancers from all over the world. An attempt was made to not overlap sounds from one stage to another by having music on only two of the four main stages at any given time. It seemed to help most of the time, until an artist on one stage would do an encore that could be heard at the beginning of another performance.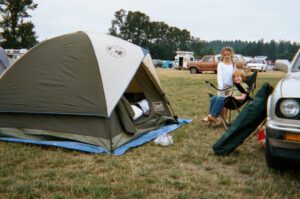 The logistics were handled very well by the festival organizers. There was plenty of staff to keep things moving and parking was simple and easy. Camping at WOMAD was a great way to become one with the vibe, with drumming circles and other musicians playing all around.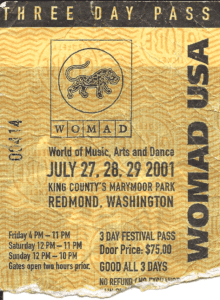 WOMAD creator Peter Gabriel performed old and new songs with longtime cohorts Tony Levin and David Rhodes before taking the stage with the Afro Celt Sound System on Sunday night. Among the 40 artists coming from 22 different countries were Isaac Hayes, Steel Pulse, the Neville Brothers, Youssou N'Dour and Baka Beyond.
A three festival pass was $75.00
Gates opened two hours before the events started and on day three I was lucky enough to see Peter Gabriel doing a sound check with his band.
Main Stage Lineup: