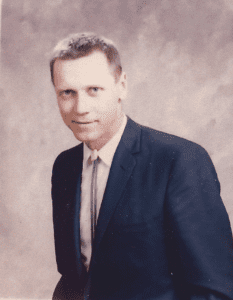 Bernhard Theodore Strasen and Henrietta Ida Ziegfeld welcomed David Henry Strasen into the world on December 5, 1930 in Nagercoil, Travancore, India. On September 22, 1991, he passed away in Seattle, Washington, USA.
Birth: Dec. 5th 1930 – Nagercoil, Travancore, India
Death: Sep. 22nd 1991 – Seattle, Washington, USA
Mother: Henrietta Ida Ziegfeld
Father: Bernhard Theodore Strasen
David "Dave" Strasen attended Concordia High School in Fort Wayne, Indiana for his final two years of high school after spending his first year in Elgin, Illinois. He completed his military service at Fort Lewis in Washington before enrolling at Valparaiso University. In 1954, he married Annette LaFosse.
They had four children, Steven (1955), Allen (1956), Cherie (1957), and Warren (1960). Dave became an experienced computer operator after the family relocated to Seattle.